Movie archive: 12 search hits
Interviews: no search hits
Movie archive
Deutschland 2017 | Drama | Isabel Prahl | 12
What other teens do for days is something Mike has been doing for weeks: he isn't coming out of his room.
Deutschland/Italien 2017 | Drama, Jugendfilm | Tobias Wiemann | 6
Amelie is 13 and the rudest girl in Berlin. When she gets sent to a sanitarium in the mountains because of her asthma, she escapes. She meets 15 year old Bart in the mountains who takes her on a dangerous expedition.
Deutschland 2017 | Comedy, Drama | Mia Spengler | 12
Angie – peroxide blonde, tanning salon brown, fitness studio hard – dreams of participating in TV's Jungle Camp but has to return to her mother in the province due to a lack of funds. It's temporary of course, just until she becomes TV ...
Großbritannien 2017 | Drama, Love-story | Francis Lee | 12
Johnny Saxby leads a tough, lonely life on his father's farm in Yorkshire. When Romanian seasonal worker Goerghe shows up and Johnny falls in love a whole new world opens for him.
Long Shot | USA 2019 | Comedy | Jonathan Levine | 12
In terms of the comedy, LONG SHOT is like a road trip that starts out brilliantly but then the map gets lost.
Macht das alles einen Sinn? – Und wenn ja – warum dauert es so lange? | Deutschland 2018 | Documentary | Andreas Wilcke
A Berlin theater legend, controversial, glorified, and now history after 2 decades: Andreas Wilcke followed Volksbühne director Frank Castorf's last season (2016/17) with a camera.
Deutschland / Australien 2015 | Drama, Experimental film | Julian Rosefeldt | oA
Cate Blanchett presents the manifestos of 20th century art movements in 13 roles, playing everything from a punk to a strockbroker. MANIFESTO is the film version of Julian Rosefeldt's video installation that could be seen in Hamburger Bahnhof in ...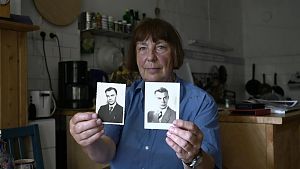 Deutschland 2017 | Documentary | Christoph Hübner, Gabriele Voss | 6
Christoph Hübner and Gabriele Voss asked the descendants of Nazi perpetrators about what knowing about their father and grandfather's deeds has done to their lives.
Deutschland 2017 | Documentary | Yasemin Samdereli, Nesrin Samdereli | oA
In their first documentary, sisters Yasemin and Nesrin Samdereli (ALMANYA) follow four couples in four continents that have been together for 55 years and ask how living together for so long works.
Deutschland 2018 | Documentary | Susanne Bohlmann, Christopher Hawkins | 12
Bernard Hiller markets himself as the "Hollywood's leading acting coach." His courses are considered to be a life-changing experience by many.
Pokot | Deutschland/ Schweden/ Polen/ Tschechien/ Slowakei 2017 | Drama, Crime, Mystery | Agnieszka Holland | 12
Brutally murdered hunters are found in a backwoods village on the Polish-Czech border. There are deer traces next to the corpses. Did the animals take their revenge?
Die Unsichtbaren – Wir wollen leben | Deutschland 2017 | Semi-documentary Film, Drama, Historical Film | Claus Räfle | 12
Around 7,000 people escaped the Nazis in Berlin by "going underground" and trying to survive illegally. Claus Räfle's film tells the story of four of them: Cioma Schönhaus, Ruth Arndt, Eugen Friede, and Hanni Lévy.
ALLE ANGABEN OHNE GEWÄHR.
Die Inhalte dieser Webseite dürfen nicht gehandelt oder weitergegeben werden. Jede Vervielfältigung, Veröffentlichung oder andere Nutzung dieser Inhalte ist verboten, soweit die INDIEKINO BERLIN UG (haftungsbeschränkt) nicht ausdrücklich schriftlich ihr Einverständnis erklärt hat.