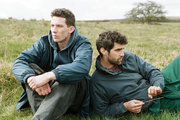 God's Own Country
Johnny Saxby leads a tough, lonely life on his father's farm in Yorkshire. When Romanian seasonal worker Goerghe shows up and Johnny falls in love a whole new world opens for him.
The very physical film with minimal dialogue shows the very physical life of Johnny Saxby on his father's farm in Yorkshire in North England. Milking cows, grabbing a sheep during a run, bringing a lamb into the world, shoveling dung, shooting a sick calf. Francis Lee doesn't look away, but rather shows rural life in all its severity and Johnny's world in all of its loneliness and brutality. Space to create your own life: not available. Interpersonal contact: minimal. Perspective for change: none. The father can't work anymore after a stroke, the mother disappeared to South
England. Johnny works because he has to, gets drunk every night in the local pub, speaks in a derogatory way to his father and grandmother, and sometimes has secret sex with other young farmhands. Then Georghe arrives at the farm, a seasonal worker from Romania. Johnny rejects him, but the new guy is different from the others that he knows. What started off as competition becomes attraction, a passionate affair, and feelings appear that Johnny doesn't recognize and that overwhelm him.

The two men getting closer is the heart of the film and is of course reminiscent of the love story between the two cowboys in Ang Lee's BROKEBACK MOUNTAIN. The film takes its time with these encounters, and the small gestures and steps they take. The physical contact begins as brutally as Johnny is used to, but Georghe teaches him that there are other ways as well. Touch, tenderness, opening up, Francis Lee shows this with a sensitive grasp of moments where time seems to stand still and your sense of the world changes. Johnny learns about a new country. But does this align with the rest of his life?

Ang Lee's BROKEBACK MOUNTAIN is set in the US in the 1960s and 1970s. Homosexuality was taboo and a future for a homosexual rural couple was unimaginable. Cowboys have luckily made progress in the 21st century. Francis Lee sends Johnny on a learning path that isn't easy, but gives him a chance. The confrontation with Georghe, who so clearly knows who he is and what he wants, the season ending, and other strokes of fate challenges him and he can't overcome them in his usual ways. This is where GOD'S OWN COUNTRY develops its most impressive element, the antithesis of the fatalistic lifestyle of the beginning: it gives the hero room to grow, to discover new life concepts, without leaving his rural reality. Johnny, who has only defined himself by physical action, strength, and functionality, learns about the soul and tangible thoughts. Josh O'Conner plays it in an intense and believable way, like the rest of the cast.

GOD'S OWN COUNTRY is what the locals call the landscape of West Yorkshire, which is where the story is set. It was also the setting of Emily Brontés "Wuthering Heights" and the director's home. It's wonderful to see the characters of his film make a life for themselves in this "country of god".
Translation: Elinor Lewy
Screenings
OV

Original version

OmU

Original with German subtitles

OmeU

Original with English subtitles
ALLE ANGABEN OHNE GEWÄHR.
Die Inhalte dieser Webseite dürfen nicht gehandelt oder weitergegeben werden. Jede Vervielfältigung, Veröffentlichung oder andere Nutzung dieser Inhalte ist verboten, soweit die INDIEKINO BERLIN UG (haftungsbeschränkt) nicht ausdrücklich schriftlich ihr Einverständnis erklärt hat.