Movie archive: 12 search hits
Interviews: no search hits
Movie archive
3 Tage in Quiberon | Deutschland 2018 | Biography, Drama | Emily Atef | oA
3 TAGE IN QUIBERON is about 3 days in the fall of 1981 when a legendary celebrity interview was conducted with actress Romy Schneider that has become part of her legacy.
D 2009 | Drama | Maren Ade | 12
A relationship drama by Maren Ade.
Tiere | Polen/Schweiz/Österreich 2017 | Drama, Mystery | Greg Zglinski | 12
Inconsistencies, confusions, question marks, and red herrings. Talking animals and mysterious coincidences. Clearly influenced by David Lynch, ANIMALS shows a couple in crisis.
The Field Guide to Evil
The Field Guide to Evil | NZ 2018 | Episodenfilm, Horror | Ashim Ahluwalia, Can Evrenol, Severin Fiala
The Field Guide To Evil is a 2018 anthology horror feature film produced by Legion. Eight film makers from different countries bring stories or folk tales from their country to the anthology.
Deutschland 2019 | Comedy, Drama | Alireza Golafshan | 12
A German comedy starring Tom Schilling.
Hotel
Hotel | D/A 2004 | Phantastischer Film, Psychothriller | Jessica Hausner | 12
Deutschland 2019 | Drama | Doris Dörrie | 12
10 years after the success of KIRSCHBLÜTEN – HANAMI, Doris Dörre returns to the family story situated between Germany and Japan and recounts how "Karli," the youngest, is being haunted by the ghosts of the past.
Deutschland 2017 | Drama, Thriller | Özgür Yildirim | 16
Ricky (Moritz Bleibtreu) gets out of jail. He took the rap for his brother Rafael and his friend Latif. He wants to do one last big job, but has to deal with policewoman Diana (Birgit Minichmayr) getting in the way.
Schachnovelle | Deutschland/Österreich 2020 | Drama, Literary Film Adaptations | Philipp Stölzl | 12
The impressive, partially shocking psychological portrait of an indomitable character. Philip Stölzl adapted Stefan Zweig's last text, "The Royal Game."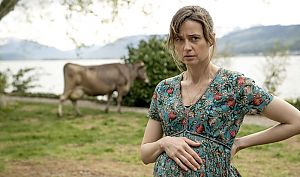 My Wonderful Wanda
Wanda, mein Wunder | Schweiz 2020 | Drama, Comedy | Bettina Oberli | oA
Wanda travels from Poland to Switzerland in order to care for bed-ridden Joseph in the home of the Wegmeister family. When she gets pregnant from Josef, the facade of the bourgeois family crumbles.
ALLE ANGABEN OHNE GEWÄHR.
Die Inhalte dieser Webseite dürfen nicht gehandelt oder weitergegeben werden. Jede Vervielfältigung, Veröffentlichung oder andere Nutzung dieser Inhalte ist verboten, soweit die INDIEKINO BERLIN UG (haftungsbeschränkt) nicht ausdrücklich schriftlich ihr Einverständnis erklärt hat.