Movie archive: 13 search hits
Interviews: no search hits
Movie archive
Sink or Swim
Le Gran Bain | Frankreich 2018 | Comedy, Drama, Sportfilm | Gilles Lellouche | 6
One day unemployed Bertrand discovers a notice at the local swimming pool: a men's synchronized swimming team is looking for new members, beginners welcome...
La chambre bleue | Frankreich 2014 | Thriller | Mathieu Amalric
Mathieu Amalric, who directs and stars in the film, throws himself headfirst into an adulterous adventure – an Amour fou coupled with Femme Fatale followed by a bitter epilog and a legal investigation. A noir based on a novel by Georges Simenon.
Quand j'etais chanteur
Quand j'etais chanteur | F 2005 | Love Stories | Xavier Giannoli | oA
De la guerre | F 2008 | Comedy | Bertrand Bonello
Demain et tous les autres jours | F 2017 | Drama | Noemie Lvovsky
Le fils de Joseph
Le fils de Joseph | F/B 2016 | Drama | Eugene Green
Kanada 2015 | Drama, Comedy, Mystery | Guy Maddin
In THE FORBIDDEN ROOM Guy Maddin, the great Canadian magician of surreal cinema, resurrects lost and forgotten storylines and compiles them making a meandering, wild and hypnotic cinematic trip.
Vous n'avez encore rien vu
Vous n'avez encore rien vu | F/D 2012 | Drama | Alain Resnais | oA
J'accuse | Frankreich/Italien 2019 | Drama, Historical Film | Roman Polanski | 12
Roman Polanski's new, controversial film is about the antisemitic Dreyfus affair of 1894. The original title of the film was J'ACCUSE, based on Emile Zola's famous article in which he accused the military court of convicting Dreyfus without ...
Le scaphandre et le papillon
Le scaphandre et le papillon | F/USA 2007 | Drama | Julian Schnabel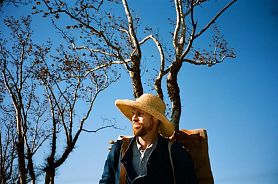 At Eternity's Gate | Großbritannien/Frankreich/USA 2018 | Biography, Drama | Julian Schnabel | 6
The best film about Van Gogh since Maurice Pialat's VAN GOGH (1991) and Robert Altman's VINCENT AND THEO (1990) depicts the artist as a pioneer of gestural painting and a forerunner of expressionist abstraction.
La Venus a la fourrure | F/PL 2013 | Drama, Literary Film Adaptations | Roman Polanski | 16
Venus in Fur is the latest Roman Polanski film based on a play by David Ives. The theatre director Thomas auditions what at first glance seems to be an unsuitable actor to play the part of von Sacher-Masoch's love goddess Vanda.
ALLE ANGABEN OHNE GEWÄHR.
Die Inhalte dieser Webseite dürfen nicht gehandelt oder weitergegeben werden. Jede Vervielfältigung, Veröffentlichung oder andere Nutzung dieser Inhalte ist verboten, soweit die INDIEKINO BERLIN UG (haftungsbeschränkt) nicht ausdrücklich schriftlich ihr Einverständnis erklärt hat.