Movie archive: 11 search hits
Interviews: no search hits
Movie archive
D 2010 | Family Film, Fantasy | Oliver Dieckmann | oA
Ben moved to a small town with his parents but he still doesn't feel at home. An intense storm causes Santa Claus Niklas Julebukk to fall from heaven and turns Ben's life upside down.
Deutschland 2018 | Drama | Andreas Dresen | oA
The east German songwriter Gerhard "Gundi" had a turbulent relationship to the GDR state as both an informer and a distruptive element. A biopic.
Le jeune Karl Marx | Deutschland/Frankreich/Belgien 2016 | Biography, Historical Film | Raoul Peck | 6
LE JEUNE KARL MARX portrays the friendship between Marx and Friedrich Engels and the encounters and discussions that lead to them composing the communist manifesto.
Deutschland 2014 | Drama, Family Film | Veit Helmer | oA
Market researchers think the town's inhabitants make the perfect product testers, and the adults comply enthusiastically. However, senior citizens are excluded and sent straight to the nursing home. The six girls and boys in the nursery group ...
Rabiye Kurnaz gegen George W. Bush | Deutschland/Frankreich 2022 | Drama | Andreas Dresen | 6
Rabiye Kumas, a Turkish housewife and mother who is clueless about legal and political matters, has been fighting for the release of her son from Guantánamo prison for five years with the help of a German human rights lawyer.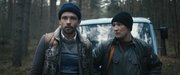 Deutschland 2016 | Comedy | Max Zähle | 6
When his father dies, insurance sales agent Mirko wants to sell the family's junk yard. But he gets roped into a ludicrous scheme to rescue the yard by his brother, the dedicated "Schrotti" Letscho, instead.
Deutschland 1999 | Documentary | Leander Haußmann
Leander Haußmann's "Sonnenallee" is set in 1970s East Berlin. A comedy about a group of friends growing up on the "wrong" side of the Sonnenalle, right next to a border crossing.
Sonnenallee
Sonnenallee | D 1998 | Comedy | Leander Haußmann | 6
Easy-going comedy about growing up in 1970's East Berlin: Falling in love for the first time, getting drunk, listening to prohibited records and trying to decide whether or not to join the army or the Stasi after school.
Deutschland 2022 | Comedy | Leander Haußmann | 12
Today he's a novelist, in the GDR he was a hero of the resistance. Ludger Fuchs applies to look at his Stasi file – and unveils parts of his life that he has suppressed.
Westen | D 2013 | Drama | Christian Schwochow | 12
When Nelly and her small son Alexej are finally allowed to leave the GDR their ordeal is only just beginning. The allied forces suspect Alexej's father, a Russian scientist who died in a mysterious car accident, of espionage and continue to ...
ALLE ANGABEN OHNE GEWÄHR.
Die Inhalte dieser Webseite dürfen nicht gehandelt oder weitergegeben werden. Jede Vervielfältigung, Veröffentlichung oder andere Nutzung dieser Inhalte ist verboten, soweit die INDIEKINO BERLIN UG (haftungsbeschränkt) nicht ausdrücklich schriftlich ihr Einverständnis erklärt hat.