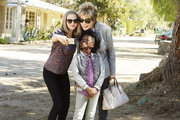 The Last Word
Harriet Lauler (Shirley MacLaine) is a control freak. She assigns the obituary writer of her local paper (Amanda Seyfried) to write her obituary while she's still alive. The problem is that no one, absolutely no one, has anything good to say about ...
The retired head of an ad agency, Harriet Lauler (Shirley MacLaine) always knows what she wants. She mows her lawn in a chessboard pattern, barks at the gardener to cut the grass from below, and takes the housekeeper's vegetables away so she can cut it more efficiently. When her personnel is gone she is all alone in her big house with a glass of presumably excellent wine. One evening she leafs through the local paper and stumbles upon the obituary page. The next morning she goes to the chief editor's office and asks to see the young woman who wrote the moving prose. With the help of a list of 100 contacts Anne (Amanda Seyfried) is supposed to write a glowing obituary for Harriet that Harriet wants to have while she is still alive. The old controlling woman and the young wannabe writer who doesn't feel like doing the job rub each other the wrong way from the first moment on. The MacLaine-Seyfried duo carry a film that is more of a well-meaning feel-good movie than a comedy. It turns out that no one has anything good to say about Harriet – her gynecologist calls her "the angriest vagina this way of China" – and so the two try to create a legacy for Harriet as quickly as possible. It's never too late to be loved is the very obvious message. What's nice is that Harriet doesn't have to change too much in order for that to happen. There's no heart of gold beneath the rough exterior and Anne and Brenda, a black problem child who Harriet picks up to score some honorary points, learn to view Harriet's ruthless ways as proto feminist acts.
Translation: Elinor Lewy
ALLE ANGABEN OHNE GEWÄHR.
Die Inhalte dieser Webseite dürfen nicht gehandelt oder weitergegeben werden. Jede Vervielfältigung, Veröffentlichung oder andere Nutzung dieser Inhalte ist verboten, soweit die INDIEKINO BERLIN UG (haftungsbeschränkt) nicht ausdrücklich schriftlich ihr Einverständnis erklärt hat.