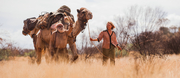 Tracks
In the 1970s Robyn Davidson decides to cross the Australian desert, alone and barefoot. In order to make some money, she regularly meets with a National Geographic photographer to report on her journey.
Determined and proud, Robyn Davidson sits on the back of Goliath. Other than the white hat with a black band around its rim to protect her head from the unrelenting sun, Davidson only has a thin shawl wrapped around her scrawny and tanned body. She is at the head of an odd caravan: behind her are three fully loaded camels, Bub, Zeleika and Dookie. Another faithful companion, the dog Diggy, follows them with a bit of distance through the barren desert landscape. This is one of many of the photographs Rick Smolane published in National Geographic in 1978 when he documented, and made famous, the journey of the 27-year-old "camel woman."

Humans who face the power and beauty of nature, alone and forced to reflect: Films like INTO THE WILD (Sean Penn, 2007), 127 HOURS (Danny Boyle, 2010), DIE SUMME MEINER EINZELNEN TEILE (Hans Weingartner, 2011), DIE WAND (Julian Pölsler, 2012) or ALL IS LOST (J.C. Chandor, 2013). Robyn Davidson (Mia Wasikowska) fits well into this line of protagonists. In 1977, after two years of training, Davidson embarked on a journey to cover the 2700 km between Alice Springs and the Indian Ocean through the Australian outback and desert. Due to a lack of money, she reluctantly agrees to be sponsored by the world-renowned magazine National Geographic and regularly meets with the magazine's photographer Smolan (Adam Driver) so he can document her journey. Director John Curran and cinematographer Mandy Walker used Smolan's pictures to recreate breathtaking desert shots.

TRACKS develops almost unnoticeably a narrative pull since the film tackles its human and animal characters with an affectionate, but also unsparing sincerity: "And there's no more need for the mask your wear / When the last goodbyes have been said" sang Mary Black in the song "Crusader," a song that Irish songwriter Mick Hanley dedicated to Robyn Davidson and her "crusade." In the film adaptation of TRACKS, the myth of the "camel woman" will continue to be written.
Translation: Carla MacDougall
Screenings
OV

Original version

OmU

Original with German subtitles

OmeU

Original with English subtitles
ALLE ANGABEN OHNE GEWÄHR.
Die Inhalte dieser Webseite dürfen nicht gehandelt oder weitergegeben werden. Jede Vervielfältigung, Veröffentlichung oder andere Nutzung dieser Inhalte ist verboten, soweit die INDIEKINO BERLIN UG (haftungsbeschränkt) nicht ausdrücklich schriftlich ihr Einverständnis erklärt hat.