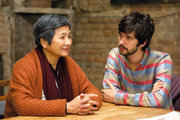 Lilting
When Kai dies, his mother Junn, who never knew that her son was gay, and his boyfriend Richard meet for the first time in a grey London cityscape. LILTING tenderly tells the story of how two strangers tentatively come to share their loss.
It seems impossible to find the words to describe the loss of a loved one. For Junn and Richard (the excellent Pei-pei Cheng and Ben Wishaw) there are even more hurdles to this challenge given that they don't speak the same language and are meeting for the first time. Richard and Kai were together for four years, but Kai never disclosed his sexuality to his mother. After Kai's untimely death Richard seeks out Kai only living relative in London. To do this, he asks a friend fluent in Mandarin to assist him and translate. London-based filmmaker Hong Khaou makes a film about two people in mourning, who both desperately long for the man they loved. Almost every scene in LILTING is set indoors and told in a comfortable tempo. Time, places – everything blurs for both Junn and Richard, who both go through the day as though they were in a bubble. The camera stays focused on the grief-stricken faces of either Junn or Richard. Ula Pontikos (WEEKEND) excellent cinematography was recognized with a prize at the Sundance Film Festival.
Khaou shifts between uncomfortable reality and a sorrowful memory so that the boundaries between a dream-state and being awake become thin. Small gestures, glances and touches become the language that matters in this film -- melancholic moments that serve to create a closeness between Richard and Junn. It's hard to believe that LILTING is Khaou's feature-film debut since his story unfolds so convincingly on the screen.
Großbritannien 2014, 91 min
Language: English, Chinese
Genre: Drama, Love-story
Director: Hong Khaou
Author: Hong Khaou
DOP: Urszula Pontikos
Montage: Mark Towns
Music: Stuart Earl
Distributor: Edition Salzgeber
Cast: Ben Whishaw, Morven Christie, Leila Wong, Peter Bowles, Shane Salter, Pei-Pei Cheng, Andrew Leung, Naomi Christie
FSK: 6
Release: 01.01.2015

Website
IMDB
Screenings
OV

Original version

OmU

Original with German subtitles

OmeU

Original with English subtitles
ALLE ANGABEN OHNE GEWÄHR.
Die Inhalte dieser Webseite dürfen nicht gehandelt oder weitergegeben werden. Jede Vervielfältigung, Veröffentlichung oder andere Nutzung dieser Inhalte ist verboten, soweit die INDIEKINO BERLIN UG (haftungsbeschränkt) nicht ausdrücklich schriftlich ihr Einverständnis erklärt hat.