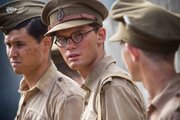 The Railway Man
Eric (Colin Firth) was tortured in a Japanese POW camp in World War 2 where he helped build the River Kwai Bridge. He never processed what he went through and, in 1980, he wishes to find closure. He meets his tormentor in Thailand who suffers from ...
The title may make THE RAILWAY MAN seem like a kitschy, run-of-the-mill romance but love only plays an ancillary role. The film begins with a meet-cute on a train between early retired Eric Lomax (Colin Firth) and former nurse Patti (Nicole Kidman) and their ensuing wedding but the focus changes soon after. Eric was tortured in a Japanese prisoner-of-war camp in World War 2 where he also helped build the Kwai Bridge. He never came to terms with the things he endured and, in 1980, he wishes to find closure. He meets his tormentor in Thailand who suffers from the effects of war in a completely different way.

A great deal of the story seems contrived, from the much too young seeming Colin Firth to the psychologically banal portrayal of conquering trauma. Teplitzky's strongest moments are when he retraces younger, imprisoned Eric's (Jeremy Irvine) horrific experience. Those scenes make the drama seem like a better version of Angelina Jolie's UNBROKEN and sometimes even like a successful extension of David Lean's classic THE BRIDGE ON THE RIVER KWAI.

Even though the film is based on real events the scenes in the early 1980s seem far less credible - whether it is because or despite of its two Oscar winners in the leading roles remains unclear. The love of Eric's life was, in fact, trains and this was brutally destroyed because of his train deportation and the grueling railway construction he was part of. A more in-depth depiction of this love would have possibly made for a more interesting film.
Translation: Elinor Lewy
Screenings
OV

Original version

OmU

Original with German subtitles

OmeU

Original with English subtitles
ALLE ANGABEN OHNE GEWÄHR.
Die Inhalte dieser Webseite dürfen nicht gehandelt oder weitergegeben werden. Jede Vervielfältigung, Veröffentlichung oder andere Nutzung dieser Inhalte ist verboten, soweit die INDIEKINO BERLIN UG (haftungsbeschränkt) nicht ausdrücklich schriftlich ihr Einverständnis erklärt hat.