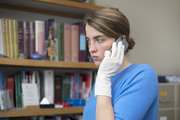 La fille inconnue
A doctor doesn't open the door after closing hours and is thereby complicit to the death of a young woman. While searching for the identity of the "unknown girl" she sees an indifferent society that is at least as responsible as she is.
We are diagnosing. Together with the young doctor (Adéle Haenel) we listen to the breathing of an old man. She is attentive and precise. She doesn't talk a lot and exudes competence. The situation also get more dramatic – a small boy has a seizure on her waiting room floor – but Dr. Jenny Davin always does the appropriate thing. Her intern Julien is softer and overwhelmed by the situation though he is needed. He is the one who wants to do the right thing and open the door when the doorbell rings after working hours. Jenny tells him not to and warns him about misdiagnosing due to tiredness and worries about her liability.
What sounds reasonable turns out to be a catastrophic decision: the woman ringing the bell was escaping violence and died close by. The distraught doctor realizes that if she had opened the door she could have saved her. She was able to help and didn't. She didn't know the consequences of her actions. A colleague reassures her that she didn't kill her, but Jenny's perception of herself has fundamentally changed. She makes an effort to get to know the dead woman in reaction to this. She doesn't want about the girl's death, she is more focused on her identityl.
Her actions turn into unusual genre film for the Dardennes brothers. The amateur detective investigates her surroundings like an old-school hard boiled private eye. Even though people say they didn't kill the unknown girl, everyone was involved in her suffering and death somehow: her jealous sister was relieved when she disappeared from their shared home and she could have her husband to herself again. The old man in the home "only" used her as a prostitute and didn't even know her name. The teenager made a false statement and the police forget to inform her about the funeral. The diagnosis: we are sick. The guilty develop physical symptoms and the doctor doesn't stop trying to heal the symptoms and injustice. Jenny remains true to her ethics, even when it gets uncomfortable.
The Belgian Dardenne brothers (TWO DAYS, ONE NIGHT, THE BICYCLE THIEF, L'ENFANT) 10th film together is a subdued, careful one. Together with the restrained intensity of the protagonist they succeed in creating both a documentary-like milieu story and a metaphorical, abstract rumination on what successful collective living entails.
Translation: Elinor Lewy
Screenings
OV

Original version

OmU

Original with German subtitles

OmeU

Original with English subtitles
ALLE ANGABEN OHNE GEWÄHR.
Die Inhalte dieser Webseite dürfen nicht gehandelt oder weitergegeben werden. Jede Vervielfältigung, Veröffentlichung oder andere Nutzung dieser Inhalte ist verboten, soweit die INDIEKINO BERLIN UG (haftungsbeschränkt) nicht ausdrücklich schriftlich ihr Einverständnis erklärt hat.