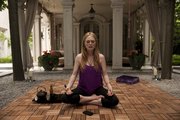 Maps to the Stars
A David Cronenberg film that chronicles the lives of two dysfunctional families and their encounters with sex, violence and incest.
The aging actress Havana Segrand watches a film that features her famous mother Clarice Taggart. Although it's a love scene Clarice's text is taken from a poem by the French surrealist Paul Elouard:

"On my school notebooks
On my desk and on the trees
On the sands of snow
I write your name
(…)
On the harmony of the flesh
On the faces of my friends
On each outstretched hand
I write your name."

Only at the end of the film, after various characters repeat the poem, is the name of it revealed: Liberty.

MAPS TO THE STARS seems like an act of liberation for David Cronenberg, whose last film COSMOPOLIS was a cutting satire of finance capitalism, but a flop at the box office (budget 20 million dollars, and it only took in $740,000 in the USA). His Freud vs. Jung drama, A DANGEROUS METHOD, fared only slightly better. Cronenberg latest film is an angry attack on the emptiness and nastiness of contemporary Hollywood and its celebrity culture.
Here's what happens: Havana Segrand (Julianne Moore) desperately wants to be cast in a remake of a film that made her mother a legend. She thinks her mother's ghost is haunting her and with the help of her self-help guru therapist Stafford Weiss (John Cusack), she tries to exorcise her mother's spirit and along with it all her neuroses. His wife Christina manages their 12-year-old son Benjie (Evan Bird), a child star who just got out of rehab. His sister Agatha (Mia Wasikowska) shows up in Los Angeles after spending a few years in a psychiatric clinic for trying to burn down the family home. Agatha takes on a job working as a personal assistant to Havana, thanks to a connection with Carrie Fisher (who plays herself). The tension builds in the turns and revelations that take the viewer from one bizarre catastrophe to the next.
Julianne Moore is fantastic as a walking mess of neurotic defects. Evan Bird plays the film's most horrific character, a spoiled, slick and ultimately pathetic child star.
MAPS TO THE STARS isn't Cronenberg's best film but it isn't easy to create such amusing yet wicked fun.
ALLE ANGABEN OHNE GEWÄHR.
Die Inhalte dieser Webseite dürfen nicht gehandelt oder weitergegeben werden. Jede Vervielfältigung, Veröffentlichung oder andere Nutzung dieser Inhalte ist verboten, soweit die INDIEKINO BERLIN UG (haftungsbeschränkt) nicht ausdrücklich schriftlich ihr Einverständnis erklärt hat.