Cinema listings: no search hits
Movie archive: 9 search hits
Interviews: no search hits
Movie archive
Bis wir tot sind oder frei
Schweiz 2020 | Drama | Oliver Rihs
L'Apparition | Frankreich 2018 | Drama | Xavier Giannoli | 12
Experienced and war traumatized journalist Jacques is sent by the Vatican to head an investigative commission meant to get to the bottom of a Marian apparition in rural southern France.
Deutschland/Belgien/Luxemburg 2017 | Comedy | Sam Garbarski | 12
A group of Jewish survivors in post-war Frankfurt try to get the money together to emigrate to the US with dubious businesses. What they all have in common is their acting abilities, inventiveness, and the wish to exact some revenge on Germany.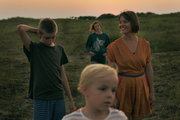 Deutschland 2016 | Drama | Bernadette Knoller | oA
Vivian takes an island break from job disasters and relationship troubles in this playful debut full of strange islanders and absurd encounters.
Schweiz 2014 | Drama | Stefan Haupt | 12
Zurich in the 1950s. Röbi Rapp, a hairdresser and drag performer and Ernst Ostertag, a quiet teacher at a girl's school meet at a party of the secret gay organisation "The Circle". THE CIRCLE combines interviews with Rapp and Ostertag with a ...
Deutschland/Österreich 2015 | Drama | Wolfgang Murnberger
Luis Trenker – a legendary South Tyrol mountain climber, actor, director, and hero of the mountaineering world. That's how most people remember him. His other side is lesser known: the egomaniac, member of the NSDAP, and opportunist who worked ...
Rate Your Date
Deutschland 2019 | Comedy, Love Stories | David Dietl
Deutschland 2019 | Comedy, Drama, Romance Films | Martin Schreier | 6
An opulently filmed mix of "coup de main" and love story with vague references to the historic film studio.
Zwingli – Der Reformator
Schweiz 2019 | Drama | Stefan Haupt | 12
An opulent biopic about the life of the Swiss reformer.
ALLE ANGABEN OHNE GEWÄHR.
Die Inhalte dieser Webseite dürfen nicht gehandelt oder weitergegeben werden. Jede Vervielfältigung, Veröffentlichung oder andere Nutzung dieser Inhalte ist verboten, soweit die INDIEKINO BERLIN UG (haftungsbeschränkt) nicht ausdrücklich schriftlich ihr Einverständnis erklärt hat.