Movie archive: 8 search hits
Interviews: no search hits
Movie archive
Au fil d'Ariane | Frankreich 2014 | Drama, Comedy | Robert Guédiguian | 6
When none of her birthday guests turns up, Ariane drives down south to Marseille where she ends up at a small Café far from the main attractions. Ariane meets odd and delightful strangers and begins to remember what it feels like to be happy.
Gloria Mundi
Frankreich/Italien 2019 | Drama | Robert Guédiguian
Saleswoman Mathilda and Uber driver Nicolas are having a baby. They're happy, but money is scarce for them and their friends.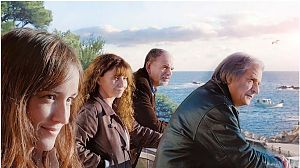 The Villa
La Villa | Frankreich 2018 | Drama | Robert Guédiguian | 6
When their father gets seriously ill, siblings Angèle, Joseph, and Armand, who has been holding the fort of the small family restaurant, decide on what should happen to their childhood home, the restaurant, and their father.
Une nouvelle amie | Frankreich 2013 | Drama | Francois Ozon | 12 | Interview
When Laura dies, her best friend Claire and her husband David support each other. One day Claire finds David in one of Laura's dresses. She is both disgusted - and intrigued.
Paris Follies | Frankreich 2014 | Comedy | Marc Fitoussi | oA
Brigitte (Isabelle Huppert) is bored with her daily life on a prize cattle farm in Normandy. Under a pretext she spents two days in Paris looking for romance. A grown-up romantic comedy.
Anais In Love
Les amours d'Anaïs | Frankreich 2021 | Drama, Romance Films | Charline Bourgeois-Tacquet
ANAÏS IN LOVE mixes the classical cheery French romantic comedy with a dash of "mumblecore" a la FRANCES HA.
Au poste! | Frankreich 2018 | Comedy | Quentin Dupieux | 12
KEEP AN EYE OUT tells a curious tale of a nightly episode at a police station in a curious way, where a very arduous investigation gets more absurd by the minute, so to speak.
ALLE ANGABEN OHNE GEWÄHR.
Die Inhalte dieser Webseite dürfen nicht gehandelt oder weitergegeben werden. Jede Vervielfältigung, Veröffentlichung oder andere Nutzung dieser Inhalte ist verboten, soweit die INDIEKINO BERLIN UG (haftungsbeschränkt) nicht ausdrücklich schriftlich ihr Einverständnis erklärt hat.