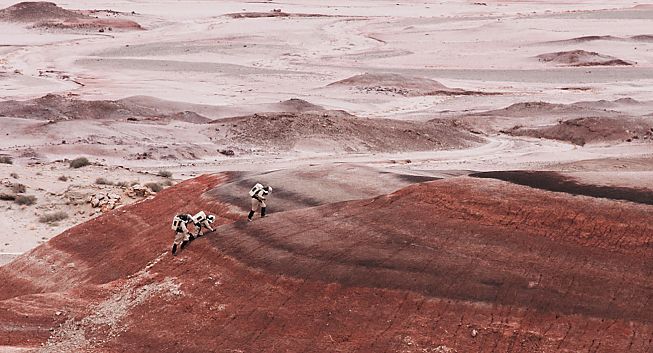 Above & Below
A couple living in a Las Vegas sewer, a loner in an abandoned military bunker, an army veteran in a Mars research station in the desert. ABOVE AND BELOW is a visually stunning and gentle documentary about people who live where the world ends.
ABOVE AND BELOW begins like a horror film: a man walks through a sewer and talks about seeing the ghost of a girl there whose family lived in the sewers until heavy rain flooded the sewage system and drowned the entire family. The astronauts tramp on Mars, always careful not to lose visibility. Is this a sci-fi? ABOVE AND BELOW is a documentary which looks like reality if Stanley Kubrick were directing it. Every image is perfectly composed, every scene is a hymn of life and its fragility, a song from above and below, physical, geographic, economic, and metaphysical. It revolved around three people who have left life on Earth in some way: April, a woman who would like to fly to Mars and lives in a Mars research station, Dave, a recluse who lives in a former military bunker in the desert, and Cindy and Rick, a couple who live in the sewers of Las Vegas. Rick says: "if you haven't lived below you don't know what life is. What's above us is just a sham." ABOVE AND BELOW takes the veil off without becoming esoteric. April and Dave are army vets. They both appear to be very traumatized. Rick and Cindy are addicted to crystal meth. Cindy has gotten a couch, a junky thing on three and a half legs. She hauls it above a fence. Behind it is the sewage tunnel, her home. She's happy about her new piece of furniture and turns the effects lamp on which she found in the trash. "You almost forget that you're in a tunnel. It's like you can touch the stars," she says. A great film and a post-apolocalyptic ballad about disappearing, happiness, and despair at the edge of the world.
Translation: Elinor Lewy
Screenings
OV

Original version

OmU

Original with German subtitles

OmeU

Original with English subtitles
Keine Programmdaten vorhanden.
ALLE ANGABEN OHNE GEWÄHR.
Die Inhalte dieser Webseite dürfen nicht gehandelt oder weitergegeben werden. Jede Vervielfältigung, Veröffentlichung oder andere Nutzung dieser Inhalte ist verboten, soweit die INDIEKINO BERLIN UG (haftungsbeschränkt) nicht ausdrücklich schriftlich ihr Einverständnis erklärt hat.