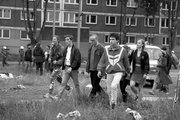 We are young. We are strong.
Burhan Qurbani's film is a fictionalized accuont of the xenophobic attacks against asylum seekers in Rostock-Lichtenhagen on 24. August 1992. He tells the story of helpless and clueless politicians and a group of young people who are angry, bored ...
The images were broadcasted around the world: The photo of a heavily intoxicated man wearing a Germany T-shirt and raising his arm in a Hitler salute. Images of the TV crew trapped in the immigrant housing estate as neo-Nazis attack the building, and the town residents stand back, watch and applaud. Burhan Qurbani's second feature-length film does not set out to add anything new to these disturbing images from 24 August 1992 in Rostock-Lichtenhagen, instead the focus is on fictional stories that provide the backdrop to the riots: The general malaise in Eastern Germany that followed the fall of the Berlin Wall, helpless and clueless politicians, and a group of teenagers looking for a way to release their anger, aggression, confusion, and frustration about lack of prospects in the newly reunified Germany. This group of teenagers includes the jittery and brash Robbie, inwardly propelled and without any goals. And Stefan, nicknamed Bolle, an introverted follower who got caught up in the wrong crowd.
Qurbani is a master of details and successfully creates an increasingly oppressive atmosphere of aggression among the group of disaffected youth – aggression directed both inward and outward. Qurbani provides two subplots: Bolle's father is an inept local politician, whose eyes slowly open. And the girlfriend of a hardcore neo-Nazi loses her job and blames a Vietnamese immigrant … These plots are the buildup to the xenophobic and racist riots and violent unrest in Rostock – indeed everything but a dry situation of affairs.
Qurbani's skillful movie making culminates in a final highly complicated sequence. The camera's journey along the housing estate inside which the frightened Vietnamese immigrants are trapped, along the line of residents cheering on the sidelines, along the hundreds of police officers in riot gear, along the mass of neo-Nazis ready to attack . Our group of teenagers makes their way through and playfully provokes the police, then the camera pans to the TV crews on the rooftops of garages and then the film switches from black and white to color just before the attack begins – and is a highly effective device. And in this long sequence, almost incidentally, Qurbani shows the leitmotif in the three children collecting bottles for deposit in a stolen shopping cart: One of the many details that provide a view into the precipice.
Translation: Carla MacDougall
Screenings
OV

Original version

OmU

Original with German subtitles

OmeU

Original with English subtitles
ALLE ANGABEN OHNE GEWÄHR.
Die Inhalte dieser Webseite dürfen nicht gehandelt oder weitergegeben werden. Jede Vervielfältigung, Veröffentlichung oder andere Nutzung dieser Inhalte ist verboten, soweit die INDIEKINO BERLIN UG (haftungsbeschränkt) nicht ausdrücklich schriftlich ihr Einverständnis erklärt hat.