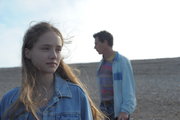 Una
15 years ago 13 year old Una and her 30 year old neighbor Ray had a type of relationship. Ray was convicted of abuse. He has built a new life for himself but Una is still asking herself what happened back then. She seeks Ray out.
A suburb with small houses and tiny lawns. A young girl enters a house. Cut to a club. Strobe lighting cut the dancing bodies. A woman in her late 20s dances ecstatically and has rough sex in the bathroom. She seems unhappy and one thing is certain: Una, the young girl we just saw, has grown up to be this distraught young woman. Una (Rooney Mara) begins a mission the next morning. She looks for a man in his mid 40s (Ben Mendelsohn) whom she calls Ray in a big warehouse but he tells her he goes by Peter now. It turns out that Una and Ray had a relationship 15 years ago. Una was just 13, Ray was over 30. The whole thing was uncovered and Ray was convicted of abuse and went to prison for a few years and is now building a new life for himself. Una can't let go of her past. The little girl is still mourning her great love Ray and the adult woman can't understand why an adult man would start an affair with a 13 year old. She wants to finally get answers.

UNA is based on the two person play BLACKBIRD by David Harrower who also wrote the screenplay. You can clearly see its theatre roots. The two ex lovers and current strangers circle around each other as they talk while the industrial warehouse serves as an abstract stage set. A few flashbacks tell their history and add some context, but Una's attempt at constructing a coherent image of the past from all the contradictory fragments and their dialogue is always at the center. She wants a clear answer to the question: what actually happened back then?
Translation: Elinor Lewy
Screenings
OV

Original version

OmU

Original with German subtitles

OmeU

Original with English subtitles
ALLE ANGABEN OHNE GEWÄHR.
Die Inhalte dieser Webseite dürfen nicht gehandelt oder weitergegeben werden. Jede Vervielfältigung, Veröffentlichung oder andere Nutzung dieser Inhalte ist verboten, soweit die INDIEKINO BERLIN UG (haftungsbeschränkt) nicht ausdrücklich schriftlich ihr Einverständnis erklärt hat.