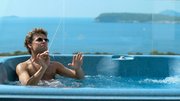 Noseland
Aleksey Igudesman's documentary about the violin virtuoso Julian Rachlin, organiser of the annual classical musical festival inDubrovnik/Croatia, is an irreverent film that affectionately pokes fun at its protagonists and the world of classical ...
In Germany classical music is categorised as "S"-art to distance itself from so-called "E"-art. "S" stands for serious and is appropriately celebrated. That "E" stands for entertainment is not promising for a film whose topic is classical music. According to this logic, NOSELAND is doomed to be a boring film. However, Aleksey Igudesman challenges these preconceived notions and divisions in his documentary about the violin virtuoso Julian Rachlin, the organiser of the annual classical music festival in Dubrovnik, Croatia. Igudesman gives the audience a rare documentary that is ostensibly about the classical music scene but was made closer to the spirit of comedian Sacha Baron Cohen. Igudesman takes the opportunity to poke fun at classical musicians and music festivals. In spontaneous interviews and portraits he manages to offend almost all the participants of the Dubrovnik festival with his naïve, ignorant questions. Igudesman gets away with most of his rude antics since he himself is an internationally known violinist and conductor. He takes particular pleasure in satirizing the external perception of classical music and aims to show his audience the classical music scene in new ways. Yet for all the absurdity, the film does take one thing seriously: the music.
Screenings
OV

Original version

OmU

Original with German subtitles

OmeU

Original with English subtitles
Keine Programmdaten vorhanden.
ALLE ANGABEN OHNE GEWÄHR.
Die Inhalte dieser Webseite dürfen nicht gehandelt oder weitergegeben werden. Jede Vervielfältigung, Veröffentlichung oder andere Nutzung dieser Inhalte ist verboten, soweit die INDIEKINO BERLIN UG (haftungsbeschränkt) nicht ausdrücklich schriftlich ihr Einverständnis erklärt hat.