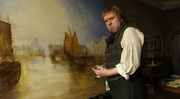 Mr. Turner
Mike Leigh tells the story of the last years of the British painter William Turner who developed an impressionist sensibility 50 years before the French impressionists entered the scene. Timothy Spall as Mr. Turner delivers the best performance of ...
In Germany, the British painter William Turner (1775 – 1851) is only known among specialists and art lovers. Turner's late art bordered on abstract and it pushed landscape painting toward the vanguard of impressionism. And in some ways he was a forerunner to the futurists. In the UK however, every school-aged child knows Turner's name. Mike Leigh and Timothy Spall honor the national saint with the film MR. TURNER. The film concentrates on the last 25 years of Turner's life when his paintings become more wild, abstract and proto-impressionist. His canvases are making him a marginal figure in the art establishment. Timothy Spall fully internalizes the taciturn and grouchy Turner, and for this magnificent performance Spall won the Best Actor prize at Cannes. Like a slow, small yet powerful force, Spall as Turner grunts and rumbles through the universe: in his studio, where his father is hard at work stirring the paints and his housekeeper waiting for his attention, in the sea resort of Margate, where he has an affair with a widowed landlady, and the Royal Academy where he was once a star and now a cantankerous old crank. Leigh brings Turner's world to life, a world encroaching on modernity, something Turner greets with unease. But the life worlds of men and women in this period are not so marginal or unusual. Leigh offers a delightful journey through time.
ALLE ANGABEN OHNE GEWÄHR.
Die Inhalte dieser Webseite dürfen nicht gehandelt oder weitergegeben werden. Jede Vervielfältigung, Veröffentlichung oder andere Nutzung dieser Inhalte ist verboten, soweit die INDIEKINO BERLIN UG (haftungsbeschränkt) nicht ausdrücklich schriftlich ihr Einverständnis erklärt hat.