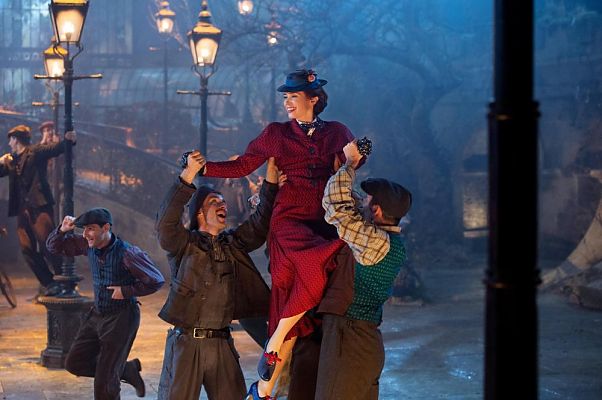 Mary Poppins Returns
While the original Banks children have now grown up, there's a new generation of Banks children in need of Mary's particular brand of whimsy, and so, Mary Poppins… um... returns
For its 54-years-in-the-making sequel to MARY POPPINS the suits at Disney opted to place the project in the capable hands of director Rob Marshall. He's one of the few contemporary directors with fairly extensive movie musical experience, from the well-received CHICAGO, to the interestingly bad NINE (Daniel Day-Lewis! Fergie from The Black Eyed Peas! Together at last!). There's also the matter of 2014's INTO THE WOODS, another Disney release, which might have served as his MARY POPPINS RETURNS job application.

Marshall has chosen to bring a couple of his INTO THE WOODS cast members across to his latest delight, with Meryl Streep perhaps deciding that with MARY POPPINS RETURNS and MAMMA MIA! HERE WE GO AGAIN, 2018 would be her year of small, fun supporting roles in musicals. The title role could easily have relied upon brand awareness and gone to a complete unknown, and the attempts to digitally de-age Julie Andrews were a complete failure, according to a report I just made up (wouldn't be surprised if they considered it though). The mantle of Mary has been placed upon Blunt's shoulders, and she is nothing less than brilliant. Happily, this applies to the whole film. It's damn near impossible to be cynical about this film, even though some cold-hearted bastards might be able to manage it. I couldn't.

J.J. Abrams' STAR WARS: THE FORCE AWAKENS was criticised for rehashing the narrative of the 1977 original, albeit with the introduction of new characters. The same criticism could be levelled at MARY POPPINS RETURNS, although it shouldn't be. While the original Banks children have now grown up, there's a new generation of Banks children in need of Mary's particular brand of whimsy, and so, Mary Poppins… um... returns (it's nice that they didn't overthink the title). The narrative isn't particularly taxing, and despite the 54 year wait, there's a natural sense of continuity from the first film.

Taking over from Julie Andrews, Emily Blunt's Mary Poppins comes across as slightly haughtier and imperious than we might remember, though this quickly gives way to her mischievous side, creating a Mary who is rather delightfully bonkers. Blunt is tremendous fun as she leads the Banks children through a marvellously fully-realised world, where the artifice is obvious but unimportant. It's nice that the interactions with animated characters are traditionally animated as with the original, instead of being given a souped-up CGI remake. Lin-Manuel Miranda appears as Jack, a lamplighter who provides a touchstone with Dick Van Dyke's Bert from the first film. Now in his 90s, Van Dyke has an impressively energetic cameo, although as Bert's spiritual successor, Miranda has a slightly irritating habit of delivering his lines as though he's hosting a children's TV show. But as far as weak points go, it's only a very minor quibble in an otherwise buoyant affair. Meryl Streep briefly appears as Mary's brilliantly bizarre cousin, and continues to be incapable of doing wrong.

Admittedly, there was money to be made, and Disney has form when it comes to mining its back catalogue, so the eventual appearance of MARY POPPINS RETURNS will surprise precisely nobody. And yet the five and a half decades of goodwill for the first film creates some heavy expectations. It's not as though parents will take their children to a film they experienced in cinemas themselves, and it's something that grandparents might more have a memory of seeing during its original release. MARY POPPINS is a film that wormed its way into our collective psyche over decades of viewing on DVD, or VHS, or even when one of the only two or three TV channels we had access to deigned to show it. Feeling familiar yet fresh, the jubilant MARY POPPINS RETURNS more than meets those heavy expectations.
Original title: Mary Poppins Returns
USA 2018, 131 min
Language: English
Genre: Family Film, Fantasy, Music Films
Director: Rob Marshall
Author: David Magee, P.L. Travers
DOP: Dion Beebe
Montage: Wyatt Smith
Music: Marc Shaiman, Scott Wittman
Distributor: The Walt Disney Company
Cast: Emily Blunt, Lin-Manuel Miranda, Dick Van Dyke, Ben Whishaw, Emily Mortimer, Colin Firth, Meryl Streep, Julie Walters, Angela Lansbury
FSK: oA
Release: 20.12.2018

Website
IMDB
Screenings
OV

Original version

OmU

Original with German subtitles

OmeU

Original with English subtitles
ALLE ANGABEN OHNE GEWÄHR.
Die Inhalte dieser Webseite dürfen nicht gehandelt oder weitergegeben werden. Jede Vervielfältigung, Veröffentlichung oder andere Nutzung dieser Inhalte ist verboten, soweit die INDIEKINO BERLIN UG (haftungsbeschränkt) nicht ausdrücklich schriftlich ihr Einverständnis erklärt hat.