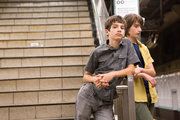 Little Men
13 year old Jake moves to his parents in Brooklyn after his grandfather's dies and befriends Tony.
In the hands of less skillful filmmakers, the topic of gentrification can provide an easy dramatic device. Landlords are portrayed as cartoon villains while the tenant becomes the noble hero fighting for home and the "little man." But in Ira Sachs' LITTLE MEN, relationships are more complex, and the real heroes are two teenage boys who become caught between parents feuding over a rent dispute.

Set in Brooklyn, LITTLE MEN tells the story of Jake and Tony, who meet when Jake's grandfather dies and his family moves into an inherited brownstone. Tony has grown up in the building with his mother, a small business owner who leases a dress shop in the building's storefront. As Jake's family gets settled into their new home, the boys bond over their creative interests. Jake is an introverted artist while the outgoing Tony dreams of acting on stage.

Tony's interests overlap with Jake's father Brian (Greg Kinnear), himself a struggling actor who thanks to his inherited property, has found temporary financial relief. But with the property comes another inheritance: the long history between Tony's mother Leonor (Paulina Garcia) and Brian's deceased father. Leonor claims Brian's father wanted her dress shop to stay in the neighborhood under the same rental agreement. Brian feels this is not economically possible. As tensions build between the two families, Jake and Tony's friendship is put in an awkward position that climaxes in a beautifully acted, heartbreaking scene that captures the naiveté and idealism of youth.

LITTLE MEN re-visits themes in Sachs' 2014 film LOVE IS STRANGE, which tenderly looked at how the realities of New York's real estate market put relationships to the test. In that story, a longtime gay couple is forced to live apart, as we observe how a lifetime of resilience helps the elderly men weather their displacement. Jack and Tony on the other hand, are at the beginning of their lives, their identities still forming in a neighborhood also undergoing radical transformation. Under the skillful direction of Sachs, LITTLE MEN delivers a touching story of two adults in the making, a journey of innocence displaced.
Screenings
OV

Original version

OmU

Original with German subtitles

OmeU

Original with English subtitles
ALLE ANGABEN OHNE GEWÄHR.
Die Inhalte dieser Webseite dürfen nicht gehandelt oder weitergegeben werden. Jede Vervielfältigung, Veröffentlichung oder andere Nutzung dieser Inhalte ist verboten, soweit die INDIEKINO BERLIN UG (haftungsbeschränkt) nicht ausdrücklich schriftlich ihr Einverständnis erklärt hat.