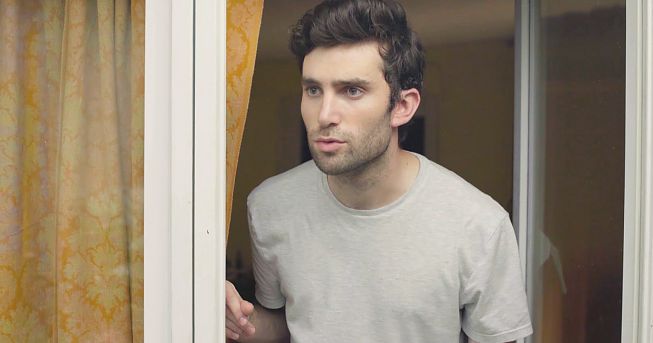 Datsche
Cultures clash in the Kleingärten of the former East
Before we ever see Val, the ostensible protagonist of Datsche, we see an unnamed man rooting in the dirt of a Kleingarten under cover of darkness, cooking a few root vegetables in the small kitchen, and crawling into the tiny attic to sleep. This, we will soon learn, is Adam, an African refugee whose asylum request has been rejected and who has been living clandestinely on the property. The following day we meet Val, rolling his suitcase down the garden colony's orderly paths. In an attempt to reconnect with his family's German roots, he's traveled from New York to his recently deceased grandfather's property in a colony on the outskirts of Potsdam.

As he pauses for a brief moment to take in the sight of the small house and overgrown garden, he's immediately scolded by an old man on a bicycle for leaving his suitcase in the way, and the elements of a classic culture-clash comedy are set in motion. The film's first act is mostly made up of these sorts of touch-and-go interactions (which take place in English, German, and some "Denglish"), as Val meets the residents – colony president Winter, a very forward neighbor and his new wife, the reactionary Gregor – while also getting acquainted with the cautious Adam, who he invites to stay on in the attic, agreeing to keep his clandestine guest's presence a secret.

The story opens up once Val heads into town, where he meets a free-spirited Argentinian who invites himself (along with a few additional random internet contacts) to the house. The interplay between the locals and outsiders gets more varied and interesting with this larger group, which is rounded out by Bavarian backpacker Stefan (who starts out as an over-the-top Bayerisch caricature before developing into a more satisfying character) and Maria, a mysterious Greek femme fatale. These new guests introduce some levity and chaos, and bring a welcome element of unpredictability – but also an increasingly inconsistent tone. Several of the film's later scenes are simply dead ends, and a series of jarring temporal jumps in the interest of wrapping things up further blurs the film's message.

Ultimately, though, the story returns to its true emotional center in Adam (played in beautifully understated fashion by Kunle Kuforiji), whose core of palpable sadness and loss puts him on a plane above the petty squabbles and micropolitics of the Kleingarten. Despite his true outsider status as an illegal refugee, which hangs heavily over every scene he's in, he's the only one truly living the Datsche experience. While those around him (both residents and visitors) see it as a weekend getaway, a job, or a symbol of national identity, he's the only one who seems to fully give himself over to digging in the dirt, or simply observing the bloom of the summer flowers. His story gives much-needed gravitas to the sometimes shaky plot, and ultimately makes Datsche a film worth seeking out.
Screenings
OV

Original version

OmU

Original with German subtitles

OmeU

Original with English subtitles
ALLE ANGABEN OHNE GEWÄHR.
Die Inhalte dieser Webseite dürfen nicht gehandelt oder weitergegeben werden. Jede Vervielfältigung, Veröffentlichung oder andere Nutzung dieser Inhalte ist verboten, soweit die INDIEKINO BERLIN UG (haftungsbeschränkt) nicht ausdrücklich schriftlich ihr Einverständnis erklärt hat.