Movie archive: 8 search hits
Interviews: no search hits
Movie archive
Ame Noire
Anime Nere | Italien 2014 | Animation, Short-film | Francesco Munzi
Anime Nere | Italien 2014 | Drama | Francesco Munzi
It takes a while for ANIME MERE to get rolling but then an act of violence happens that is so horrible it leads to catastrophe.
Il paradiso del pavone | Deutschland/Italien 2021 | Drama, Family Film | Laura Bispuri
In the ensemble film directed by Laura Bispuri, members of a large family reunite to celebrate their grandmother's birthday. A kind of family portrait.
Il Traditore | Italien 2019 | Biography, Crime, Drama | Marco Bellocchio | 12
Former Sicilian mafia boss Tommaso Buscetta decides to go on record as a chief witness and discuss all the details about the "honorable society". The resulting "Maxi trial" took six years in a bulletproof room and resulted in the indictment ...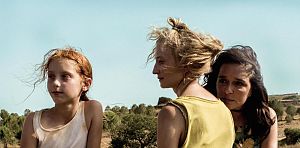 Figlia Mia | Italien/Schweiz/Deutschland 2018 | Drama | Laura Bispuri
A fishing village in Sardinia: Vittoria was raised by her adoptive mother Tina while her living and mentally unstable mother Angelica didn't take care of her. When that changes, a relationship drama begins between the three women.
Smetto quando voglio: Ad honorem
Smetto quando voglio: Ad honorem | Italien 2017 | Action, Comedy, Crime Drama | Sydney Sibilia
Vergine Giurata | Italien/ Schweiz/ Deutschland/ Albanien/ Frankreich 2015 | Drama | Laura Bispuri | oA
Hana has chosen to live according to the law of the "Katun" that is still practiced in the remote regions of northern Albania as a "sworn virgin", a man. When Hana, or Mark as she calls herself now, emigrates to Italy s/he has to once again ...
La pazza gioia | Frankreich/Italien 2016 | Tragicomedy | Paolo Virzì | 12
Kooky self-proclaimed countess Beatrice (Valeria Bruno Tedeschi) and quiet Donatella (Micaela Ramazotti) escape the psychiatric ward and go on an energetic road trip a la THELMA & LOUISE.
ALLE ANGABEN OHNE GEWÄHR.
Die Inhalte dieser Webseite dürfen nicht gehandelt oder weitergegeben werden. Jede Vervielfältigung, Veröffentlichung oder andere Nutzung dieser Inhalte ist verboten, soweit die INDIEKINO BERLIN UG (haftungsbeschränkt) nicht ausdrücklich schriftlich ihr Einverständnis erklärt hat.