Cinema listings: no search hits
Movie archive: 15 search hits
Interviews: no search hits
Movie archive
Adults in the Room
F/GR 2019 | Biography, Drama | Costa-Gavras
Gleißendes Glück | Deutschland 2015 | Drama | Sven Taddicken | 16
Depressed housewife Helene Brindel hears neuroscientist Eduard Gluck's radio feature and decides he might be able to help her. But Gluck has some problems of his own. An adaptation of the novel "Original Bliss" by A.L. Kennedy.
Grüner wird's nicht | Deutschland 2017 | Drama, Comedy | Florian Gallenberger | oA
When his nursery is facing bankruptcy, gardener Schorsch mounts his tiny, red biplane and heads off to see the polar lights.
Das Leben der Anderen | D 2006 | Drama | Florian Henckel von Donnersmarck | 12
GDR 1984: loyal secret police captain Wiesler is deployed as an informant. The intimate intrusion into other people's lives opens up a world he never knew existed which he cannot withdraw from. A dangerous game begins.
Tatort – Angriff auf Wache 08
D 2018 | Crime Drama, | Thomas Stuber
Deutschland 2019 | Tragicomedy, Drama, Romance Films | Rainer Kaufmann | oA
Children, a dog, and 25 years of marriage. Doris (Martina Gedeck) and Georg (Ulrich Tukur) have had enough. They wants to discuss their relationship one more time with their marriage counsellor and then call it quits.
Verteidiger des Glaubens | Deutschland/Italien 2019 | Documentary | Christoph Röhl | oA
A documentary about the second Pope to have ever stepped down, Joseph Ratzinger, and the lengths the church went to to cover up instances of child abuse by clerics.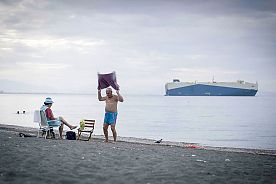 Vor mir der Süden
Italien/Deutschland 2020 | Documentary | Pepe Danquart
Week-ends | Frankreich 2014 | Drama | Anne Villacèque
For thirty years couples Christine and Jean and Sylvette and Ulrich have been spending their holidays in their adjoining summer cottages in Normandy. Only the tides seem to change here… until early one morning Jean leaves Christine.
Das weiße Band – Eine deutsche Kindergeschichte
A/D/F 2009 | Drama | Michael Haneke | 12
ALLE ANGABEN OHNE GEWÄHR.
Die Inhalte dieser Webseite dürfen nicht gehandelt oder weitergegeben werden. Jede Vervielfältigung, Veröffentlichung oder andere Nutzung dieser Inhalte ist verboten, soweit die INDIEKINO BERLIN UG (haftungsbeschränkt) nicht ausdrücklich schriftlich ihr Einverständnis erklärt hat.