Cinema listings: no search hits
Movie archive: 8 search hits
Interviews: no search hits
Movie archive
Österreich 2014 | Drama | Jessica Hausner | 6
Inspired by the double-suicide of Heinrich von Kleist and Henriette Vogel, Jessica Hausner (HOTEL, LOURDES) recounts the love-death story as an extreme stylized and amusing experiment.
Deutschland 2017 | Drama, Sportfilm | Alexandra Sell | oA
The husband is gone, the mother is unbearable, work is too much. Doctor Annebärbel decides to revive an old childhood dream at 58 and joins a hobby ice skating group.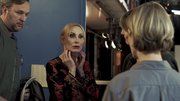 Deutschland 2017 | Drama, Comedy | Nicolas Wackerbarth | oA
Vera is planning a remake of Fassbinder's THE BITTER TEARS OF PETRA VON KANT. One day before the shoot is about to start she still hasn't decided on her main actress...
D 2015 | Comedy | David Wnendt | 12
Adolf Hitler awakens in present-day Berlin after almost 70 years and experiences the peace under Angela Merkel and being surrounded by thousands of foreigners.
Deutschland 2014 | Comedy | Moritz Laube | 12
What many think about doing, the teacher Niels Deboos together with the unsuccessful author Christian Darre put into action. They reject our capitalist, globalised, and heavily surveilled world and establish their own state.
Deutschland 2015 | Drama | Marc Brummund | 12
1968. Wolfgang's stepfather decides to put the 14 year old in a Christian reform school called FREISTATT. Beneath the friendly facade lies a regime of forced labor and collective punishment. Director Marc Brummund aligns himself with a classic ...
Deutschland 2018 | Drama, Familiy History | Anca Miruna Lazarescu | 12
Jessica has OCD and takes care of her sister who is suffering from an incurable lung disease. Her father Stefan tries to overcome the pain of the accidental death of his wife by reading to hospice patients.
Julia muss sterben
Deutschland 2020 | Comedy | Marco Gadge
ALLE ANGABEN OHNE GEWÄHR.
Die Inhalte dieser Webseite dürfen nicht gehandelt oder weitergegeben werden. Jede Vervielfältigung, Veröffentlichung oder andere Nutzung dieser Inhalte ist verboten, soweit die INDIEKINO BERLIN UG (haftungsbeschränkt) nicht ausdrücklich schriftlich ihr Einverständnis erklärt hat.