Cinema listings: no search hits
Movie archive: 10 search hits
Interviews: no search hits
Movie archive
Deutschland/ Frankreich/ Mazedonien/ Kosovo 2015 | Drama | Visar Morina | 12
10 year old Nori follows his father from Kosovo to Germany in Visar Morina's unsentimental debut.
Deutschland/Belgien/Luxemburg 2017 | Drama, Mystery, Thriller | Govinda Van Maele | 16
German Jens (Frederich Lau) who is looking for work is stranded in a small village in Luxembourg where farmers are strangely friendly to him after giving him a gruff welcome. A tight province thriller.
I want to see the Manager | Deutschland/Italien 2014 | Documentary | Hannes Lang | oA
I WANT TO SEE THE MANAGER is an episodic documentary which surveys the current shift within the geopolitical power structure in order to reveal the interconnected realities of those who inhabit this planet.
Grzeli nateli dgeebi | Deutschland/ Frankreich/ Georgien 2013 | Drama | Simon Groß, Nana Ekvtimishvili
Tiblisi, Summer 1992. Life is hard in Georgian's capital and patriarchy still very much in power. Teenagers, Eka and Natia, both about 14 years old, struggle for independence.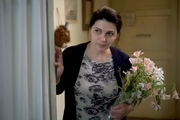 Chemi Bednieri Ojakhi | Frankreich/Georgien 2017 | Drama, Familientragödie | Simon Groß, Nana Ekvtimishvili | oA
A day after her 52nd birthday, Manana leaves her apartment which she shares with her husband, her parents, her two adult children, and her daughter's partner. No one understands why – she has everything!
Polen 2013 | Drama | Marcin Malaszczak
Most of this film is shot in a psychiatric hospital in the Polish town of SIENIAWKA. Director Marcin Malaszczak is less interested in a classic portrayal of an institution as he is in a filmic exploration of different states of consciousness. An ...
Wer wir waren
Wer wir waren | Deutschland 2021 | Documentary | Marc Bauder | oA
Deutschland 2018 | Drama | Jan Bonny | 16
Jan Bonny's WINTERMÄRCHEN depicts a neo-Nazi trio as dumb, degenerate, narcissistic beings whose life consists of partying, drinking, grunting, fucking,and killing – crimes and ideologies that are portrayed from a comfortable distance.
Deutschland 2014 | Comedy | Franz Müller
Director Georg wants to make an art house film while with his team during the soccer championship in Danzig. Unfortunately, the funding doesn't go through and the costume designer he broke up with six week ago is pregnant.
ALLE ANGABEN OHNE GEWÄHR.
Die Inhalte dieser Webseite dürfen nicht gehandelt oder weitergegeben werden. Jede Vervielfältigung, Veröffentlichung oder andere Nutzung dieser Inhalte ist verboten, soweit die INDIEKINO BERLIN UG (haftungsbeschränkt) nicht ausdrücklich schriftlich ihr Einverständnis erklärt hat.