Movie archive: 11 search hits
Interviews: no search hits
Movie archive
"Die Kinder haben uns vertraut und uns integriert in ihren Schulalltag"
AEIOU – Das schnelle Alphabet der Liebe | Deutschland 2022 | Drama | Nicolette Krebitz
60 year old actress Anna takes a job as a language trainer. Her first client is 17 year old Adrian who stole her wallet shortly before. The two quickly develop a playful, flirty dynamic.
Deutschland 2019 | Comedy | Sophie Kluge | oA
Ava moves back in with her mother and her new boyfriend after university. Since she can't find a job, she interns at a theater where she meets actor Jonas.
Helle Nächte | Deutschland/Norwegen 2017 | Drama, Roadmovie | Thomas Arslan | oA
After the death of his father, civil engineer Michael travels to Norway with his own son. Their relationship is difficult, they don't talk a lot, fog hangs over the mountains. A road movie about speechlessness and fatherhood.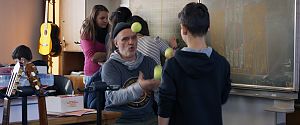 Deutschland 2021 | Documentary | Maria Speth | oA | Interview
A long-term documentary about an extraordinary teacher and his class.
Die Lügen der Sieger | Deutschland 2014 | Thriller | Christoph Hochhäusler | 12
"The Berlin School" goes genre. Remiscent of Alan Pakula's classic ALL THE PRESIDENT'S MEN, DIE LÜGEN DER SIEGER tailgates a journalistic duo who go after a hot cover story and end up discovering a tangled web. The deeper they delve in, the ...
Deutschland 2013 | Drama | Maria Speth | 12
Agnes, a 60-year old teacher from a small town near Frankfurt, has come to Berlin to find her missing daughter. Lost in sadness she wanders the streets of the city until she meets Ines who is herself a runaway.
Deutschland 2016 | Drama | Angela Schanelec | 12
Summer vacation. A break-up. A spilled wine glass. A shoe. Angela Schanelec lets her images convey life paths, or rather moments. Radical jumps steer the concentration to the almost tactile materiality of her filmic cosmos.
Über-Ich und Du | Deutschland/Schweiz/Österreich 2014 | Tragicomedy | Benjamin Heisenberg | 6
Nick Gutlicht is a small-time con man and owes a lot of people money. Curt Ledig is a retired psychology professor and is struggling with an ambiguous Nazi past. Their meeting results in an absurd kind of therapy. A comedy.
Was gewesen wäre | Deutschland 2019 | Drama | Florian Koerner von Gustorf | 6
Paul and Astrid want to spend a romantic weekend in Hungary, but when Astrid recognizes one of the other hotel guests as her childhood sweetheart, the couple's trip turns into a trip to the past.
Deutschland 2016 | Drama | Nicolette Krebitz | 16
Annoyed with her boring job, Ania captures a wolf and lives with it in her flat. Her desire is not to domesticate the animal, but to become wild herself.
ALLE ANGABEN OHNE GEWÄHR.
Die Inhalte dieser Webseite dürfen nicht gehandelt oder weitergegeben werden. Jede Vervielfältigung, Veröffentlichung oder andere Nutzung dieser Inhalte ist verboten, soweit die INDIEKINO BERLIN UG (haftungsbeschränkt) nicht ausdrücklich schriftlich ihr Einverständnis erklärt hat.