Cinema listings: no search hits
Movie archive: 8 search hits
Interviews: no search hits
Movie archive
A Dog's Purpose
A Dog's Purpose | USA 2016 | Family Film | Lasse Hallström | oA
Chocolat | USA 2000 | Comedy, Love-story | Lasse Hallström | 6
A romantic comedy about a chocolate store owner in a picturesque town.
What's Eating Gilbert Grape?
What's Eating Gilbert Grape? | USA 1993 | Tragicomedy | Lasse Hallström | 6
The Hundred-Foot Journey | USA 2014 | Drama | Lasse Hallström | oA
The Kadam family leaves India for France where they open a restaurant directly across the road from Madame Mallory's Michelin-starred eatery.
Mer om oss barn in Bullerbyn | S/BRD/I 1988 | Mystery | Lasse Hallström | oA
Lasse, Olle, Anne, Bosse, Britta, Lisa, and little Kerstin experience a new adventure in the small, idyllic world of Bullerbü. Christmas is right around the corner and there's a lot to prepare.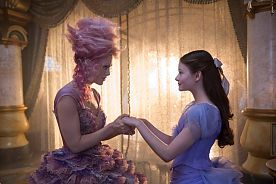 The Nutcracker and the Four Realms
The Nutcracker And The Four Realms | USA 2018 | Adventure, Family Film, Fantasy | Lasse Hallström, Joe Johnston | oA
Alla vi Barn i Bullerbyn | Schweden 1986 | Familiy History | Lasse Hallström | oA
The farmers from Bullerbü, a village that only has three farms are bringing the harvest. Children Lasse, Ole, Bosse, Britta, Inga, and Lisa help their parents as best they can.
ALLE ANGABEN OHNE GEWÄHR.
Die Inhalte dieser Webseite dürfen nicht gehandelt oder weitergegeben werden. Jede Vervielfältigung, Veröffentlichung oder andere Nutzung dieser Inhalte ist verboten, soweit die INDIEKINO BERLIN UG (haftungsbeschränkt) nicht ausdrücklich schriftlich ihr Einverständnis erklärt hat.