Cinema listings: no search hits
Movie archive: 8 search hits
Interviews: no search hits
Movie archive
Deutschland 2016 | Tragicomedy | Luise Brinkmann
A flatshare in Brandenburg. Roommate Maya brings a series of men to her bedroom, her mother Charlotte tries her hand at dating sites, and Kerstin still believes that her man will reappear one day.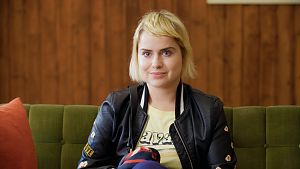 Kim hat einen Penis | Deutschland 2018 | , Comedy | Philipp Eichholtz | 12
During a stop-over in Switzerland pilot Kim gets a penis and goes home with it to Neukölln, where her nice boyfriend isn't very enthusiastic about the new accessory.
Liebesfilm | Deutschland 2018 | Comedy, Love Stories | Robert Bohrer, Emma Rosa Simon
Lenz is a slacker and Ira is, too, or so Lenz thought. But then Ira starts talking about having children. Lenz splits.
Looping
Deutschland 2016 | Drama | Leonie Krippendorff | 16
Three women of three different generations meet each other in a psychiatric clinic during very relevant points in their lives. A strong connection full of energy, honesty and eroticism arises between them.
Deutschland 2016 | Leonie Krippendorff
In her debut feature Leonie Krippendorff follows the desperate attempts of three women in a psychiatric clinic to come to grips with their traumas.
D 2013 | Drama, Comedy, Love Stories | Jakob Lass | 12
In Jakob Lass' second feature film LOVE STEAKS two opposites collide: the shy, clumsy Clemens, a massage therapist, and the quick-tempered Alpha female Lara, a chef.
Deutschland 2017 | Drama, Social Drama | Jakob Lass | 16
Nice girl Maggie meets tough Tiger while at a security training course who teaches her to show her claws. TIGER GIRL is mostly improvised and indulges in the pure desire of breaking things, going wild, and transgressing limits.
ALLE ANGABEN OHNE GEWÄHR.
Die Inhalte dieser Webseite dürfen nicht gehandelt oder weitergegeben werden. Jede Vervielfältigung, Veröffentlichung oder andere Nutzung dieser Inhalte ist verboten, soweit die INDIEKINO BERLIN UG (haftungsbeschränkt) nicht ausdrücklich schriftlich ihr Einverständnis erklärt hat.