Cinema listings: no search hits
Movie archive: 6 search hits
Interviews: no search hits
Movie archive
"Man kann sich die Situation nicht anschauen, ohne wütend zu werden"
The Angels Share
The Angels Share | GB/F 2012 | Drama, Comedy | Ken Loach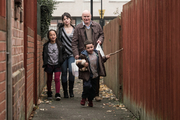 I, Daniel Blake | Frankreich/Großbritannien 2016 | Drama | Ken Loach | 6 | Interview
I, DANIEL BLAKE is an angry film about the systematic humiliation of the British working class. After suffering a heart attack carpenter Daniel Blake finds himself at the mercy of a social system that has no interest in helping him. He teams up with ...
Frankreich/ Irland/ Großbritannien 2014 | Drama, Historical Film | Ken Loach | 6
In 1932, ten years after the Irish War of Independence, the socialist Jimmy Gralton returns from New York to his hometown in County Leitrim. When he re-opens the communal "Pearse-Connolly-Hall" the trouble with the church and state authorities ...
Großbritannien 2019 | Drama | Ken Loach | 12 | Interview
Ken Loach takes the 'I Incorporated' world to task: Ricky Turner from Newcastle becomes a self-employed parcel carrier. If everything goes well, he and his wife Abbie, an outpatient geriatric nurse, can pay off their little house….
Fatherland
Fatherland | BRD 1986 | Drama | Ken Loach
The Wind that Shakes the Barley
IRL/GB/D/E 2006 | Drama | Ken Loach | 12
ALLE ANGABEN OHNE GEWÄHR.
Die Inhalte dieser Webseite dürfen nicht gehandelt oder weitergegeben werden. Jede Vervielfältigung, Veröffentlichung oder andere Nutzung dieser Inhalte ist verboten, soweit die INDIEKINO BERLIN UG (haftungsbeschränkt) nicht ausdrücklich schriftlich ihr Einverständnis erklärt hat.