Movie archive: 13 search hits
Interviews: no search hits
Movie archive
Deutschland 2019 | Comedy | Wolfgang Groos | 6
Pensioner Karin wants to become a grandmother. Luckily it's never too late, even if you never had kids yourself, because today there's an entire database of grandmas and grandpas to rent. A situational comedy with a celebrity cast.
Es ist zu deinem Besten
Es ist zu deinem Besten | Deutschland 2020 | Comedy | Marc Rothemund | 12
Der Fall Collini | Deutschland 2019 | Drama | Marco Kreuzpaintner | 12
70 year old Fabrizio Collini killed industrial magnate Hans Meyer for allegedly no reason. A courtroom drama adapted from the bestseller by Ferdinand von Schirach.
Deutschland 2015/2016 | Comedy | Nikolai Müllerschön | 12
Rich industrialist K.O. Schott is driven to an important event by the wrong chauffeur. Macedonian Liz Tucha, who is being chased by the bloodthirsty family of his ex-fiance, is also in the limo.
Deutschland 2019 | Family Film | Sharon von Wietersheim | oA
A film about a family trying to stick together after losing their father.
D/A 2018 | Drama, Comedy, Crime Drama | Wolfgang Groos | 12
A German comedy about an identity mix-up.
Merchants Of Death
Merchants Of Death | D/MEX 2015 | Politthriller | Daniel Harrich
Rossini oder die mörderische Frage, wer mit wem schlief
D 1996 | Comedy | Helmut Dietl | 12
Unter deutschen Betten
Deutschland 2017 | Comedy, Sociological Film, Literary Film Adaptations | Jan Fehse | 6
D 2016 | Drama, Comedy | Simon Verhoeven | 12
Well-to-do family Hartmann is in turmoil when mother Angelika decides to take in a refugee against her husband's wishes.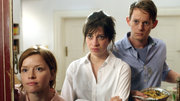 Deutschland 2014 | Comedy | Ralf Westhoff | oA
After 25 years, Anna, Johannes and Eddi, all around the age of 60, decide to move back into together. But not long after they clash with the student apartment above them. The fights are about noise, cleaning schedules, and how one should live.
Der blinde Fleck (2014)
Der blinde Fleck (2014) | D 2013 | Drama, Thriller | Daniel Harrich | 12
ALLE ANGABEN OHNE GEWÄHR.
Die Inhalte dieser Webseite dürfen nicht gehandelt oder weitergegeben werden. Jede Vervielfältigung, Veröffentlichung oder andere Nutzung dieser Inhalte ist verboten, soweit die INDIEKINO BERLIN UG (haftungsbeschränkt) nicht ausdrücklich schriftlich ihr Einverständnis erklärt hat.