Cinema listings: no search hits
Movie archive: 9 search hits
Interviews: no search hits
Movie archive
Dans la maison | F 2012 | Thriller | Francois Ozon | 12
Frustrated teacher Germain is trying to make literature interesting to his 16 year students. Disappointed with the results, he decides to dedicate his time to Claude's work – which takes his breath away.
J'accuse | Frankreich/Italien 2019 | Drama, Historical Film | Roman Polanski | 12
Roman Polanski's new, controversial film is about the antisemitic Dreyfus affair of 1894. The original title of the film was J'ACCUSE, based on Emile Zola's famous article in which he accused the military court of convicting Dreyfus without ...
USA 2017 | Documentary, Biography | Pappi Corsicato | oA
Pappi Corsicato made a portrait of his friend Julian Schnabel, the New York artist known for his large format artworks as well as his exuberant personality.
Réparer les vivants | Frankreich/Belgien 2016 | Drama, Literary Film Adaptations | Katell Quillévéré | 12
A young man gets irreparable brain damage after a car accident. A musician is waiting for a donor heart. The story of a transplant.
D'après une histoire vraie | Frankreich/Polen 2017 | Thriller | Roman Polanski
At a book signing of her new novel successful author Dephine Dayrieux meets a charming, confident woman who calls herself "Elle" and is her "biggest fan." It's the beginning of a friendship in which Elle keeps invading more and more of ...
Le scaphandre et le papillon
Le scaphandre et le papillon | F/USA 2007 | Drama | Julian Schnabel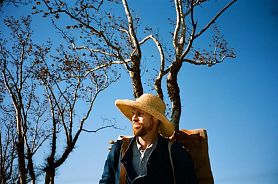 At Eternity's Gate | Großbritannien/Frankreich/USA 2018 | Biography, Drama | Julian Schnabel | 6
The best film about Van Gogh since Maurice Pialat's VAN GOGH (1991) and Robert Altman's VINCENT AND THEO (1990) depicts the artist as a pioneer of gestural painting and a forerunner of expressionist abstraction.
La Venus a la fourrure | F/PL 2013 | Drama, Literary Film Adaptations | Roman Polanski | 16
Venus in Fur is the latest Roman Polanski film based on a play by David Ives. The theatre director Thomas auditions what at first glance seems to be an unsuitable actor to play the part of von Sacher-Masoch's love goddess Vanda.
ALLE ANGABEN OHNE GEWÄHR.
Die Inhalte dieser Webseite dürfen nicht gehandelt oder weitergegeben werden. Jede Vervielfältigung, Veröffentlichung oder andere Nutzung dieser Inhalte ist verboten, soweit die INDIEKINO BERLIN UG (haftungsbeschränkt) nicht ausdrücklich schriftlich ihr Einverständnis erklärt hat.