Cinema listings: no search hits
Movie archive: 9 search hits
Interviews: no search hits
Movie archive
Deutschland 2017 | Drama, Comedy, Literary Film Adaptations | Helene Hegemann | 12
16 year old Mifti moves in with her older half siblings in Berlin after her mother passes away and gets sucked into big city life. AXOLOTL OVERKILL is an adaptation of Helene Hegemann's hotly debated debut novel.
Deutschland 2013 | Documentary | Martin Gressmann | oA
For over a period of 30 years director Martin Gressmann filmed the area in Berlin where the "Reich Main Security Office" was located, the headquarters of the Gestapo, SS and SD, where the genocide of the European Jews was orchestrated.
Deutschland/Thailand 2013 | Drama, Comedy | Susanna Salonen | 6
When the family spends their Christmas holidays in Phuket the 19-year-old Felix meets Fai, a charming girl about his age. He falls in love and decides to stay longer in Thailand - only then does Fai tell him that she had a sex change and used to be ...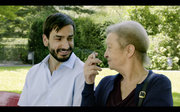 Schweiz 2013 | Drama | Marcel Gisler | 12
Despite her stroke ROSIE always has the right sound bite ready and refuses help or to be placed in a home. Instead the family has to come together more often.
Deutschland 2020 | Documentary, Biography | Bettina Böhler | 12
A documentary on German film and theatre director Christoph Schlingensief (1960-2010), assembled entirely from his films and interviews.
Transit | Deutschland/Frankreich 2018 | Drama | Christian Petzold | 12
Christian Petzold has adapted Anna Segher's exile novel and set it in present-day Marseille.
Deutschland/Österreich/Bulgarien 2017 | Drama | Valeska Grisebach | 12
In Valeska Griesebach's laconic "western", the frontier lies in the east, in Bulgaria, and the cowboys are a troupe of taciturn construction workers who are meant to build a small hydro station in the summer heat.
Deutschland 2016 | Drama | Nicolette Krebitz | 16
Annoyed with her boring job, Ania captures a wolf and lives with it in her flat. Her desire is not to domesticate the animal, but to become wild herself.
Deutschland 2015 | Drama | Margarethe von Trotta | oA
ALLE ANGABEN OHNE GEWÄHR.
Die Inhalte dieser Webseite dürfen nicht gehandelt oder weitergegeben werden. Jede Vervielfältigung, Veröffentlichung oder andere Nutzung dieser Inhalte ist verboten, soweit die INDIEKINO BERLIN UG (haftungsbeschränkt) nicht ausdrücklich schriftlich ihr Einverständnis erklärt hat.