Cinema listings: no search hits
Movie archive: 10 search hits
Interviews: no search hits
Movie archive
Niederlande 2006 | Documentary | Frank Vellega
This documentary film exposes the system of moneymaking based on warfare in many parts of the world. It reveals the nature of a system that doesn't stop at national borders, with UN resolutions or apparent peace.
Ich habe nie Heil Hitler gesagt – Gertrud Keen, ein deutsches Schicksal
Deutschland 1999 | Documentary | Vera Leiser
Deutschland 2006 | Martin Otevrel | oA
One day the small bear and small tiger go on a journey searching for Panama, the country of their dreams. If you have a friend with you there is nothing to be afraid of!
Kurzfilmrolle | Short-film Programme
ca. 90 minutes short films and moderation starting at 10 P.M. evening discussion 10:30 P.M. – winner of the audience prize will be presented. Moderation: Martin Zint, Weltfriedensdienst e.V.
Mala Moskwa | Polen 2009 | Drama | Waldemar Krzystek
The film is an impressive depiction of what Stalinism does to people.
Notre étrangère
Notre étrangère | Burkina Faso/Frankreich 2009 | Drama | Sarah Bouyain
The Peacemaker | USA 2013 | Action | Rain Rucker, Paul Bloomfield | 16
An entertaining and dynamic interaction between two individuals actively engaged in bringing about peace.
Vers un monde altruiste? | Frankreich 2015 | Documentary | Sylvie Gilman, Thierry de Lestrade
Is it possible for positive character traits to be promoted in this day and age? Can you perhaps learn how to be selfless?
Mexiko 2014 | Drama, Familiy History, Historical Film | Jorge Perez Solano
A feeling of eternal sadness hangs over a remote region in Mexico, where men and women grieve. "Tirisia" is the death of the spirit, it is life in standstill, one step before death.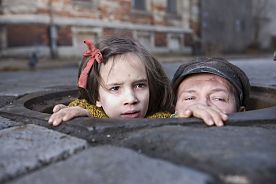 W ciemnosci
W ciemnosci | Polen/Deutschland/Kanada 2011 | Drama, War Film | Agnieszka Holland | 12
ALLE ANGABEN OHNE GEWÄHR.
Die Inhalte dieser Webseite dürfen nicht gehandelt oder weitergegeben werden. Jede Vervielfältigung, Veröffentlichung oder andere Nutzung dieser Inhalte ist verboten, soweit die INDIEKINO BERLIN UG (haftungsbeschränkt) nicht ausdrücklich schriftlich ihr Einverständnis erklärt hat.