Cinema listings: no search hits
Movie archive: 8 search hits
Interviews: no search hits
Movie archive
The Cleaners – Im Schatten der Netzwelt | Deutschland 2018 | Documentary | Hans Block, Moritz Riesewieck
The documentary portrays content moderators who look at thousands of pictures and videos on facebook, twitter, and instagram day after day and decide whether they have to be deleted or censored.
Three Peaks | Deutschland/Italien 2017 | Drama, Thriller | Jan Zabeil | 12
Aaron drives to the mountains with his new girlfriend and her son Tristan. The boy tries to call Aaron "dad" at times, and other times he tries to drive him away. A psycho drama and mountain thriller.
Enklava | Deutschland/Serbien 2015 | Drama | Goran Radovanovic | 12
10 year old Nenad is taken to school under military protection every day – he is part of the hated Serbian minority in predominantly Albanian Kosovo.
Before the Last Curtain Falls / Gardenia | Deutschland 2014 | Documentary | Thomas Wallner
The older men acting in the theatre piece "Gardenia" are living between genders, either as transvestites or transsexuals. They take to the stage one last time.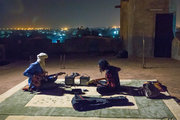 Deutschland/Mali 2016 | Documentary | Lutz Gregor | oA
More than half of Mali's territory is controlled by Islamists. Where once the "Festival au Désert" took place is where secular music is now completely forbidden. Various musicians in the faraway capital Bamako refuse to just accept that.
Parcours d'amour | Deutschland 2014 | Documentary | Bettina Blümner | oA
Bettina Blümner (PRINZESSINNENBAD) chose a Paris dance hall with flirty 70+ year olds as the setting for her newest documentary. The film shifts from their casual come ons in the dance hall to a more personal look at the protagonists who give ...
Peter Handke – Bin im Wald. Kann sein, dass ich mich verspäte | Deutschland 2016 | Documentary | Corinna Belz | oA
Documentarian Corinna Belz follows up her film about Gerhard Richter with a profile of writer Peter Handke in his house in Paris.
Staatsgeheimnis Bankenrettung
Deutschland 2013 | Documentary | Arpad Bondy
ALLE ANGABEN OHNE GEWÄHR.
Die Inhalte dieser Webseite dürfen nicht gehandelt oder weitergegeben werden. Jede Vervielfältigung, Veröffentlichung oder andere Nutzung dieser Inhalte ist verboten, soweit die INDIEKINO BERLIN UG (haftungsbeschränkt) nicht ausdrücklich schriftlich ihr Einverständnis erklärt hat.