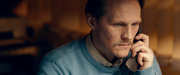 Aloys
Private investigator Aloys Adorn is permanently undercover. He doesn't go out, he never says "I" and he spends his spare time reading his clients' files. Then one day a mysterious woman calls and invites him to take "telephone walks" ...
There are instructions for being invisible in private investigator Aloys Adorns' apartment. He reads it out loud and lives by these rules. He hovers in phone booths and films cheating husbands. Later he sits on his couch and looks at the video again and again – that's his hobby, which he freely admits later on in the film. Aloys Adorn's voyeurism isn't a sensual to him. Aloys invades the lives of strangers because he doesn't have one of his own. He is grumpy and insecure when directly in contact with others. He prefers staying in corners and closes himself off quickly. Each moment of eye contact seems to question his existence. He never utters the word "I." Aloys is made up of his father's legacy, who was also a private investigator, and the lives of his clients – and also the woman on the phone who challenges him and wants him to break out of the empty shell that is his life. This woman, Vera, turns the table on him. The voyeur becomes the watched, the vulnerable. But Vera isn't focused on him. With the help of "phone walking" she makes it possible for him to get out of his sham of an existence: whether it's hypnosis, relaxation methods, or playfulness – Aloys goes into imaginary spaces with Vera, falls in love with her there, and begins transforming. While the storyline is quite familiar, the aesthetic staging is what sets ALOYS apart. The strict, corny backdrop of a Swiss prefab estate, the preserved apartment of Adorn Sr., the meticulous collection of surveillance videos on one side and the imaginary, promising forest on the other are nicely designed analogies to Aloys' interior life. Nölle shows reality and fiction interlocking and creates interesting cracks in a capable and humorous way.
Translation: Elinor Lewy
Screenings
OV

Original version

OmU

Original with German subtitles

OmeU

Original with English subtitles
Keine Programmdaten vorhanden.
ALLE ANGABEN OHNE GEWÄHR.
Die Inhalte dieser Webseite dürfen nicht gehandelt oder weitergegeben werden. Jede Vervielfältigung, Veröffentlichung oder andere Nutzung dieser Inhalte ist verboten, soweit die INDIEKINO BERLIN UG (haftungsbeschränkt) nicht ausdrücklich schriftlich ihr Einverständnis erklärt hat.