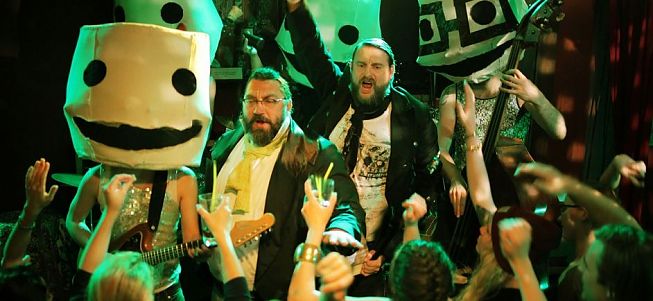 Alki Alki
Axel Ranisch's new film ALKI ALKI centers on successful architect Tobias and his best friend Flasche (bottle). They have lots of fun together, but Flasche also seeks to destroy everything Tobias has ever cared for. A German mumblecore comedy.
Alex Ranisch makes films as though it's hobby. That isn't meant to sound insulting: he films with the same inner joy as a finicky stamp collector or a passionate sports fan. He makes very personal stories in a completely open, immersive way.

Axel Ranisch films with love and care. And with friends: since his debut DICKE MÄDCHEN, a sensitive love story between two established men, he's been working with Peter Trabner and Heiko Pinkowski, without whom the humor, physicality, and improvisational talent of the "German Mumblecore" would be impossible to imagine. Ranisch, Trabner, and Pinkowski are also co-screenwriters. Pinkowski is also a close member of Ranisch's film family as he works together with producer Anne Baeker and cameraman Dennis Paul in their production company Sehr gute Filme. This factory has churned out masterpieces like the strangely twisted, likable, and improvised REUBER and also ALKI ALKI.

Heiko Pinkowski is Tobias, a relaxed family man, respected architect, and always in tow with his best friend: Flasche (trans: bottle), Peter Trabner with his own mix of extroversion and irritability. They've had a lot of fun together since they were young, much more than with his wife, children, and career. Flasche is also his enemy, who wantonly destroys everything that is important. Flasche is the addiction, part MEPHISTO part MY FRIEND HARVEY.

At the beginning of the film we see some flirtation between Tobias and his wife Anika (Christina Grosse), but it could also be a fight around a beer bottle, a kind of theater performance on a canopy bed with retro costumes or a playful ménage a trois, since the bottle always makes an appearance. The first minutes place us directly in the psychological and physical space of someone who can't differentiate between the interior and the external. Ranisch tackles the the story of common alcoholism, just like he tackles the tragedy of his mother's death in his previous ICH FÜHL MICH DISCO. He combines sadness with his comedy without taking away its integrity. We experience ALKI ALKI like Tobias does: between excess and wishful thinking, repression and belittlement.
Translation: Elinor Lewy
Deutschland 2015, 102 min
Language: German
Genre: Drama, Comedy
Director: Axel Ranisch
Author: Peter Trabner, Heiko Pinkowski, Axel Ranisch
DOP: Dennis Pauls
Montage: Guernica Zimgabel, Milenka Nawka
Distributor: missingfilms
Cast: Oliver Korittke, Iris Berben, Thorsten Merten, Robert Gwisdek, Christina Große, Peter Trabner, Heiko Pinkowski, Claudia Jacob
FSK: 12
Release: 12.11.2015

Website
IMDB
Screenings
OV

Original version

OmU

Original with German subtitles

OmeU

Original with English subtitles
ALLE ANGABEN OHNE GEWÄHR.
Die Inhalte dieser Webseite dürfen nicht gehandelt oder weitergegeben werden. Jede Vervielfältigung, Veröffentlichung oder andere Nutzung dieser Inhalte ist verboten, soweit die INDIEKINO BERLIN UG (haftungsbeschränkt) nicht ausdrücklich schriftlich ihr Einverständnis erklärt hat.