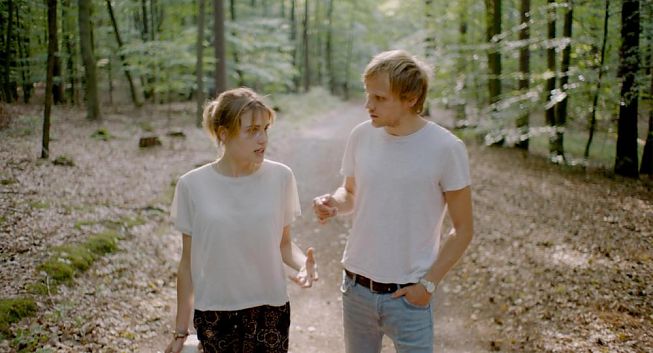 303
When Jan is stood up by his rideshare, he hitches a ride with Jule who has an old caravan and is on her way to Portugal. The two become lovers during the long hours in the caravan, on camping sites, and the picnic breaks.
Both Jule and Jan aren't super achievers. In the beginning of Hans Weingartner's wonderful, talky road movie, Jule screws up her biochemistry exam because she can't remember the citric acid cycle. Her claim that she's a good biologist and that you can just google facts in an emergency does not impress the examiner. Jan doesn't get a scholarship from the Konrad Adenauer Fund even though his work was exceptional. The professor says it's too progressive and that you have to "also think strategically." "And what about one's stance?" Jan asks.

From the start 303 shows how the two could understand each other and how they struggle with the demands put on them in a similar way. A love story develops that isn't just about chemistry and driving on a vespa into the sunset but is also about where trust comes from and how it grows. But Jan and Jule don't know each other yet, they're still packing their backpacks in their respective rooms. Jule wants to travel to Portugal in her brother's old caravan to see her boyfriend Alex and and discuss what she should do about her unwanted pregnancy. Jan wants to go to Spain with a car-share to meet his biological father who he has never met and who doesn't know about it. When Jan is stood up by his driver, he hitchhikes until Cologne with Jule who is topping up oil at the gas station. But initially it looks like even Cologne won't work. They struggle to hold a conversation, they're both involved with themselves, then Jan says something stupid – not the last time – and doesn't notice how Jule takes it. He gets out, then she takes him in again. First to Cologne, then further on to France, Spain, Portugal. They talk and talk, the conversations improve and the silence does too.

During a necessary two and a half hour running time, 303 follows Jan and Jule as they start developing their own language and thereby their own world. The dialogue that Mala Emde and Anton Spieker (both TV actors and both great) say seems spontanous but is actually meticulously written. Jule and Jan talk about big issues and they talk just to talk. They discuss whether humans are fundamentally cooperative (Jule) or are wolves (Jan), whether love equals sex (Jan) or is something else entirely (Jule), and whether a monogamous life is possible. They debate with passion, earnestness, and pleasure. They are impossibly open and incredibly defensive at the same time.

Hans Weingartner (DAS WEISSE RAUSCHEN) is interested in the issues that Jule and Jan discuss, in the question of how one should live and with whom. Most of all he shows how they become allies after the long hours in the caravan, the camping sites, and the picnic breaks. Similar to the BEFORE trilogy by Richard Linklater starring Julie Delpy and Ethan Hawke, Jan and Jule deal with their feelings by talking. Directly or indirectly, attacking and defending, joking or self-deceiving. And similar to the role model, 303 floats on a cloud of transience, unspoken tenderness, and possibilities hanging in the air.
Translation: Elinor Lewy
Screenings
OV

Original version

OmU

Original with German subtitles

OmeU

Original with English subtitles
ALLE ANGABEN OHNE GEWÄHR.
Die Inhalte dieser Webseite dürfen nicht gehandelt oder weitergegeben werden. Jede Vervielfältigung, Veröffentlichung oder andere Nutzung dieser Inhalte ist verboten, soweit die INDIEKINO BERLIN UG (haftungsbeschränkt) nicht ausdrücklich schriftlich ihr Einverständnis erklärt hat.